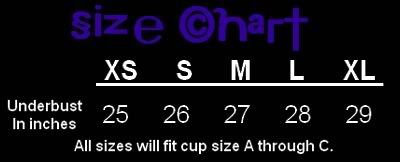 Sizing Information - Corsets
Standard size corsets will fit up to a C cup. Larger cup sizes please contact me after ordering so that I can adjust to fit you!
The underbust measurement is NOT your bra measurement! It is the distance around your torso, just under your bust, basically where your bra ends.
As a fitting example, your underbust measurement is 32 inches. A medium~sized corset has an underbust measurement of 27 inches. Subtract the corset underbust measurement from your underbust measurement to get an estimate of how much space will be between the lacings in the back of the corset. In this example, 32 - 27 = 5, so five inches would be showing.
How much of one's back is showing between the laces is a personal preference, but I normally aim for 3 inches of back showing when doing commissions, so you can use that as a general guide.